On Sunday 16 September 2007, Cloudy and Neil and I decided to have a day out. Well, we thought we deserved it.
We headed up the M1 to
Hardwick Hall ("more glass than wall"), a local National Trust property
we had often driven past - usually on the way to Sheffield - and of which we had frequently said "we really should go there".
Well, it was a good day with plenty of sun and some pretty clouds so we paid up our parking fee and then went to pay our entrance costs...
Hmmm, actually, this would work out better for us if we actually JOINED the
National Trust
: not only would we get in free/park free for the rest of the year but we would also today get a free cream tea each (which seemed a nice additional treat for the day).
So we signed up and now we are members of the NT. How very middle-class of us!
It was a fabulous and fascinating place to visit: the 'New' Hall, the one Bess of Hardwick is best known for is indeed an astonishing building. Even - or sometimes especially - where refurbishment is still taking place, it is historically interesting. For an art/architectural historian (me) it has some real treats with its images and tapestries especially, and there's plenty of quirks in its tales: e.g. the long gallery tapestries were actually made for someone else and the dog images of the previous person's emblem were over-sewn with antlers to make the Hardwick crest!
Bess, rich enough to challenge Queen Elizabeth herself for wealth, was an astute climber of the social ladder: four husbands and good management of her wealth assured her of that. (Cloud did suggest that her 'looking after her husbands' including some judicious portions of arsenic!)
We were also able to take advantage of the co-running of the 'Old' Hall by the NT and English Heritage to get free entry there too: the Old Hall was in use still when one of the old Dukes of Devonshire decided he really wanted to look out on a ruin (this being the 17th/18th century moment where ruins were deemed beautiful things to look at). So despite servants still leaving there, he simply decided to strategically demolish parts of it to create his new vista: nice.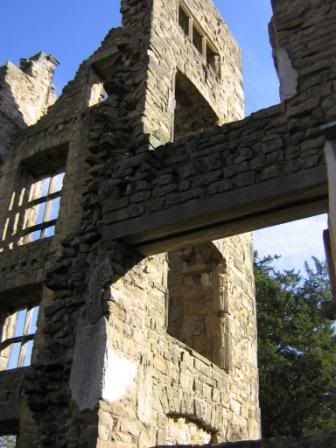 Despite it being late in the day, after leaving Hardwick I really wanted to head down the motorway and visit
Willesley Wood
, where Lisette kindly planted us some trees last year. So in fading light we got lost in the wilds of Leicestershire and eventually found the newly planted trees of Willesley.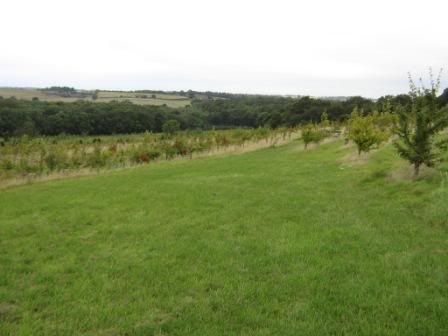 All in all, a very nice way to spend the day...